London Bierfest
Old Billingsgate Market | 19th - 20th Oct 2023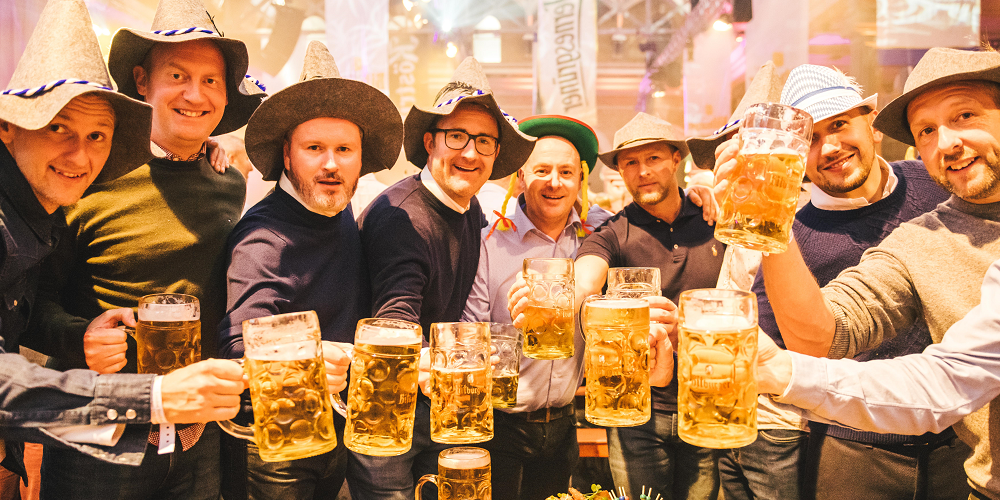 The London Bierfest is a popular, fun and affordable event based at Old Billingsgate Market. As London's answer to the Oktoberfest beer festival in Munich, the London Bierfest is now firmly established as the UK's Premium Beer festival and a perfect way to entertain both your clients and colleagues in a relaxed environment.
Each year in October Old Billingsgate Market is transformed into a traditional German Bierfest, with internationally renowned Brews such as Bitburger straight from the breweries of Munich. Over the 2 day festival the Main Hall hosts over 3,000 guests who enjoy a buzzing atmosphere and over 15,000 litres of premium Bavarian beer on tap. The hall is always filled with the sounds of live music, steins of flowing beer and traditional German entertainment shown throughout the afternoon and evening.


Package Inclusions
Minimum tables of 10 guests
Unlimited steins of Bitburger beer throughout the evening
Hot and Cold delicious platters of traditional German food
Full table service throughout the evening
Oompah band and other excellent live entertainment
Cloakroom and security facilities
Props and merchandise available to purchase
The Premium Floor Package also includes guaranteed prime table location close to the dance floor & live entertainment.
Prices
Thursday 19th October

Standard - £169
Premium - £189
Friday 20th October
Standard - £169
Premium - £189
All prices are excluding VAT and per person.

London Bierfest Hospitality
The London Bierfest hospitality packages and tickets are comprehensive; your Bierfest tickets will come with unlimited steins of German beer and authentic food served throughout the day. The traditional German fare is served to you on giant platters straight to your table by your waiters; the lederhosen clad Heidis, Helgas and Helmuts! The entertainment for the evening includes many live performances, including a fantastic Oompah band and there is always the option to join the fancy dress theme. The informal fun setting gives a unique feel to this event which always receives good feedback.
The London Bierfest Hospitality packages we have are ideal for those who are looking for a fun event in the centre of the City of London when London Bierfest first opened its doors in 2003 it steadily developed itself as a hit with business and corporate groups. Ideally situated near Monument, it gives corporates a perfect break from the office with a stein or three of Bavarian brew.
Bierfest Brews
The London Bierfest has a wonderful range of beers on tap all evening to get your taste buds tingling! All with different strengths, colours and characteristics; there's sure to be something for everyone. The world-famous brewer and Germany's number one draught lager Bitburger are providing a selection of their most popular beers throughout London Bierfest including Konig (one of Germany's most popular pilsners) and Kostritzer Schwarzbier (a speciality black beer). All the beer is brewed in the German town of Bitberg with traditional methods and premier ingredients in state of the art facilities.
Why go all the way to Germany for Oktoberfest tickets when you can experience the unique atmosphere of a Bierfest in the heart of London City!!
Contact DTB for more information about London Bierfest Hospitality.
---
---